May 10th, 2011
On the 153rd day in the life of the most beautiful girl in the history of the world the morning did not begin peacefully. Maya's trend of waking up at 4:00 continued this morning. The difference is that this morning when she woke up with congestion blocking her airway I was able to use her suction machine to clear it out. After an hour she got back to sleep. 8:30 was a repeat of 4:00. I woke to her alarm and a very upset baby. Once again the suction helped and she got calmed back down.
At 11:00 Michele came by to help out with Maya. By this time Maya was in much better shape. She stayed awake for most of the day fighting against sleep. If there is one thing that we have learned about Maya it is that she has an amazing will that won't bend. She did not want to sleep. That was OK because she was relatively happy. Later in the afternoon Krissie came by to help out as well. Maya needed suctioning several times through out the day, but never got as bad as she did over night. I don't like using the suctioning machine, and Maya doesn't like it much either. The sound of her breathing easy after is the reward. I don't know how we would get through with out it.
This evening Grandpa Bob and Grandma Chris came by and brought us dinner. Maya has been asleep now for several hours. She is breathing easy and her color is good. She looks so peaceful tonight. Hopefully her peace will last through the night.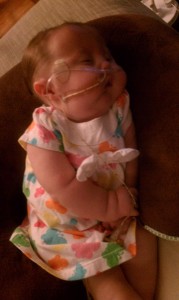 test Filed under
Uncategorized
|
Comment (0)