January 14th, 2011
Maya's Playlist
Ben Folds Whatever & Ever Amen
Jack Johnson Sleep Through the Static
On the 37th day in the life of the most beautiful girl in the history of the world the morning began peacefully. I peered through one blood shot eye at my daughter. She seems to like the night life. I made it until 1:00 taking care of her before waking Erin up to try and get her to sleep. But my daughter might have inherited a little bit of my hard headedness. She does what she wants. Erin was up until 3:00. I woke up at 8:00 so that Erin could get some sleep. We moved out to the living room and opened the shades. The early morning is still my favorite time with Maya. Just me and my girl.
Later on Michelle came by to take care of Maya for a while. She made some hand splints out of yarn. They are perfect. We put them on Maya's hands while she is sleeping to stretch out her hands. That along with her stretches have really helped her to relax her grip. Maybe a little too much as last night she repeatedly tried to hook her feeding tube with her finger. She thought it was fun. We did not agree.
The day was uneventful. We held Maya on the couch and watched TV. It was a good day. She was really awake today and we are enjoying interacting with her. Her eyes are turning bluer every day, and her hair is getting long. Her face has changed so much in just a month. Today I was looking at her round face and comparing it to some pictures of her from earlier. She is growing fast. Everyday she is fitting into clothes that she could not previously. She set a record for the longest yawn today. Also the heaviest diaper. Yup we're pretty proud. Our days are full of wonderful little moments with our little girl. We now know her every move. Her precious little stretches with both arms over her head. Her little whimper after every sneeze. Her little yawns followed by a loosing battle with her heavy eyelids. All these things are the magic that is Maya Winnifred.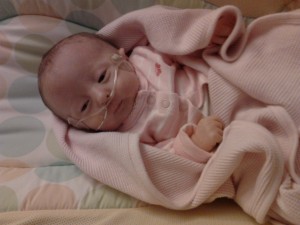 test Filed under
Uncategorized
|
Comments (3)